Lawrence W. Adler, MD, CPI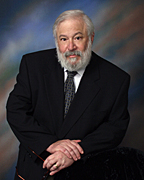 Lawrence W. Adler, MD, CPI, is in private practice and clinical research in Glen Burnie, Maryland. In addition to being Director of Clinical Trials and a Principal Investigator at Clinical Insights in Glen Burnie, Dr. Adler is an attending physician at North Arundel Hospital in Glen Burnie, and has courtesy privileges at Sheppard Pratt Hospital in Towson, Maryland.
After earning his medical degree from the University of Maryland School Medicine in Baltimore, Dr. Adler conducted postdoctoral research in biological chemistry, publishing papers on membrane biology and active transport energetics. Dr. Adler served as a resident psychiatrist at Sheppard Pratt Hospital for three years.
Dr. Adler is board-certified in General and Geriatric Psychiatry, is certified in Clinical Psychopharmacology, and is a Certified Physician Investigator. He currently is Assistant Clinical Professor of Psychiatry at the University of Maryland School of Medicine. Previously, he was on the psychiatry research faculty at the Johns Hopkins University School of Medicine.
As a researcher, Dr. Adler has been an investigator and a co-investigator on over 100 clinical trials sponsored by the National Institute of Mental Health and many major pharmaceutical companies. Dr. Adler's current research efforts are focused on schizophrenia, primary insomnia, major depressive disorder, bipolar disorder, and Alzheimer's Disease.
As an author, Dr. Adler has published papers on all aspects of psychiatry in journals such as the American Journal of Psychiatry, the British Journal of Psychiatry, the American Journal of Medical Genetics, and Archives of General Psychiatry.
Dr. Adler is a member of many societies and associations, including the American Society of Clinical Psychopharmacology, the American Association for the Advancement of Science, the Association of Clinical Research Professionals, the American Psychiatric Association, the Academy of Pharmaceutical Physicians, the American Association of Geriatric Psychiatrists, the American Society of Addiction Medicine, the American Academy of Pain Management, and the College Internationale Neuro-Psychopharmacolique
home | about us | principal investigator | clinical trials | interest form | directions | contact